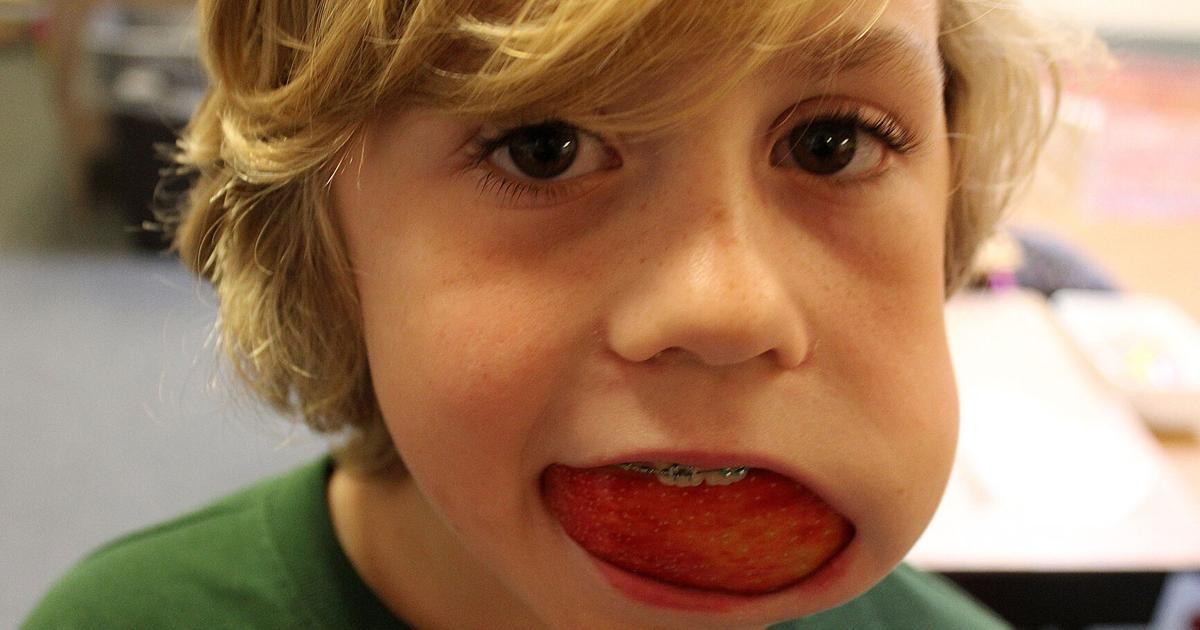 On Wednesday, students in Montana ate healthy, locally-sourced nutrition to celebrate the National Farm-to-School Month in an initiative called Montana Crunch Time.
This year's event included crunchy fruits and vegetables.
Apples were a favorite food at Daly Elementary School in Hamilton.
Hamilton Food Service Director Nick Jacomignon purchased Honeycrisp Apples grown in Stevensville.
The sophomores in Dulcie Belanger's class were treated en masse to a healthy crunch, which was difficult for some students who had the space where their front teeth should be or who were wired with orthodontics. It turns out there is.
"Apples don't grow all year round," Berenger told his students. "Raise your hand if you like apples."
"We all love apples and they are so delicious that we have been eating apples for snacks together for a month," said Berenger.
When she asked who had apple trees in their homes, a third of the students raised their hands.
A few weeks ago, students took a field trip to Homestead Organics just south of Hamilton. The students recalled their trips fondly and said they were most excited to open the red curried winter squash given to them by her Laura Garber, owner of Homestead Organics. Students plan to save seeds to plant in the community garden this spring.
"Hamilton School District was one of three schools in Montana to receive Farm to School instruction," Belanger said. "We are very excited."
The Farm to School program has three parts.
First is procurement. Giacominion strives to source as much locally sourced food as possible for the school. The second was education, where students participated in activities related to agriculture, food health and nutrition. They will learn about different types of fruits and vegetables and participate in taste tests. Her third part of the Farm to School program is learning how to garden hands-on to teach healthy eating and lifestyles. Belanger students will be using part of a community garden near the school this spring.
"We have committees that work on all three of these elements," Belanger said. "We're working to make sure it's sustainable for years to come and that it's not going away."
Amy Harvey's daily third graders in her class tried two varieties of apples: Honeycrisp from an orchard near Stevensville and McIntosh from a friend's tree just down the road.
In a taste comparison, two-thirds of the class voted for Honeycrisp over McIntosh. Students described Honeycrisp his apples as sweet, yellow, juicy, crunchy and tart. They described McIntosh as sour, soft, sweet, mushy, and a pale pink skin.
Students received a Montana Crunch Time or Hamilton Bronx sticker.
Aubree Roth, Farm to School Coordinator for the Montana Team Nutrition Program, based at Montana State University, said the Montana Crunch Time event encourages healthy eating habits and supports local food-based initiatives statewide. said there is.
She said it helps people learn about healthy food and nutrition choices and encourages all Montanas to get involved. can help Montana win the Mountain Plains Regional Crunch Off. This year, Colorado, Montana, Missouri, Kansas, Nebraska, Utah, North Dakota, South Dakota and Wyoming will compete to see which state can get the most "crunch." The state with the most crunches per capita wins the crunch-off crown.
It counts towards the total Montana-wide crunches registered at montana.edu/mtfarmtoschool/mt-crunch-time.html. Registering gives you access to a web page with resources about sourcing local ingredients, classroom activities, and more.
Montana Crunch Time started as a school-based event in 2013 and has since expanded to encourage crunch to all Montanas. In 2021, a total of 30,958 Montanas participated in Crunch. The event is sponsored by the Montana Farm-to-School Leadership Team, the Montana Team Nutrition Program at Montana State University, the Montana Department of Public Education, and several partners.
.